It's up the range to find cooler air, streets of flowers and downhill racing in Toowoomba this weekend. Toowoomba, or T-Bar as the locals say, is home to part-time local and Enduro star, Jared Graves. Today we raced where you might find him on a training ride, Jubilee Park on Mackenzie Frenzy DH.
---
ZELVY Carbon 2015 QUEENSLAND DOWNHILL State Champs
Brought to you by Zelvy Carbon \\ Dirt Merch \\ Johnny Sprockets \\ i-Ride Bikes \\ Bikeline Toowoomba is home to Australia's first Mountain Bike Park so it's fitting we come here to race for the state champs.
Located west of Brisbane is the Toowoomba Range. Toowoomba, is very pretty this time of year with the Annual Toowoomba Flower Festival covering the gardens and streets of the city in vibrant colour. The downhill track, located in Jubilee Mountain Bike Park presents dry and rocky for the days racing. A stark contrast to the poppy filled streets of Toowoomba!
Remy Morton tackling the S bends in the flatter open section of the course.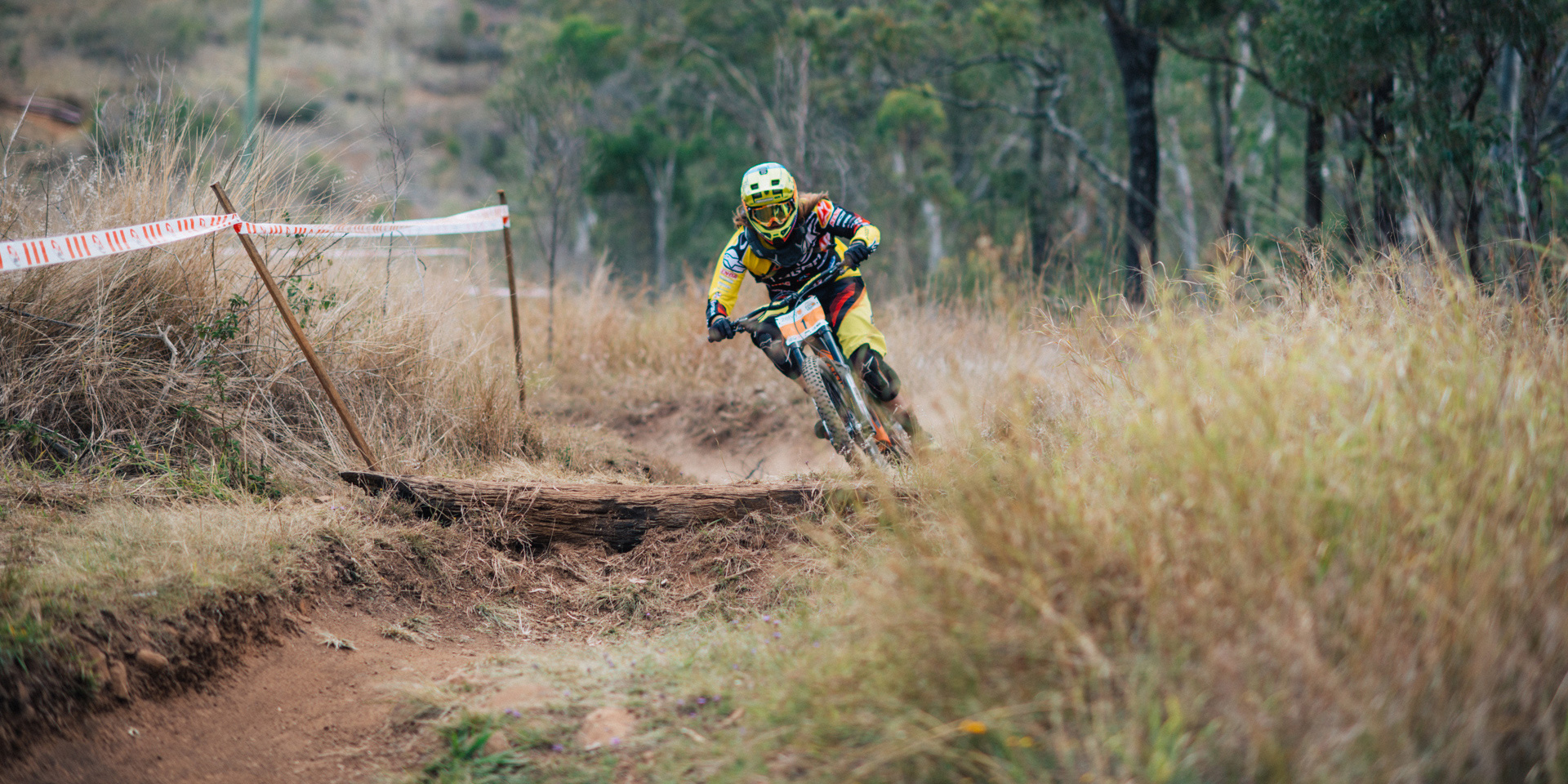 The race village saw great support from local business. Zelvy Carbon, the naming rights sponsor had their well received carbon rims on show in new widths, along with some new instant engagement hubs available for wheel builds. Their Preston downhill bike was looking mint, tricked out in black and orange 2016 Fox and Funn gear.
Dirt Merch has been a great supporter of SEQ racing this year with plenty of riding gear available for purchase. Yakima were once again giving away bike carriers on race day.
Sunny Queensland churned out another great day for the spectators.
Sam Fraser was looking fast up the top.
Pinning, popping and locking.
You might not know it (heck I didn't) but over 80% of Queensland is suffering from a severe drought. The most ever recorded. Toowoomba is right on the cusp of this area, being 'drought declared' since May 2014. Much of Queensland's coastal regions are unaffected but it's devastating amongst many rural communities.
Russell Knipe #63, flat strap after the 'ski jump' en-route to the upcoming rock garden.
Leading into the rock garden were a set of low-speed corners where much time could be made or lost, the bunting slowed the riders leading into the rock garden before hitting full gas down to the finish.
The rock garden gave much of the action for the day with Kenton Matthew's (pictured in hi-vis orange) taking a spill and a double over the bars in the masters category. (I'll add a video link to this article of some spills taken).
Flat tyres were wrecking havoc on the trail today many runs turning sour for riders.
The angry earth bumps were definitely centre of attention.
Get down low and go go go. Trent Byrne #106 on fire here taking 2nd in Sport Men.
Suspension at work.
The juniors were showing impressive bike control on the trails today. Keep up the good work!
Lisa Mathison #32, took the win in Elite Women today by a convincing 22.9 seconds.
Elite Men were on the throttle, flat-out kicking sticks.
Max Warshawsky exiting the rock garden at pace to take the fastest time of the day. Ben Power would come down next 0.16 seconds slower.
Minutes after Ben's run the trail had a watering down with a ten minute shower.
Presentations were under way soon enough once the weather cleared.
Zelvy's main man Greg greeted the 2015 QLD State Champs Winners.
The fastest down today Max Warshawsky in 2:51.321. Full results are available at seqdh.com.au/results/
---
Thanks goes out too Toowoomba Mountain Bike Club for putting on this event and all the event sponsors, local businesses involved, volunteers, moms, dads et all. Toowoomba, cheers for a super day racing and holding out just long enough with the weather. **ADDED** Guys definitley go checkout the excellent video wrap-up by follow the line at PinkBike >> http://www.pinkbike.com/video/423901/