I love riding bikes. They're an excellent extension of our body.  Agile, nimble, they accelerate and stop quickly, can jump off things, do aerial tricks and allow us to do what we can in a bigger scale; much faster, higher and crazier than we ever dreamed. I'm not sure there is any other manmade creation that works so well together with the human body. Downhill racing is one part of cycling which I love, it is a great spectator sport and deserves all the eyeballs and sponsorships it's riders can get.
---
South East Queensland Downhill Round 6 – Beerburrum
SEQ DH #6 2015 brought to you by Dirt Merch \\ Ashgrove Cycles \\ For The Riders \\ Maxxis
The media coverage of the UCI World Cup races is pretty great these days, live streams and solid numbers of great images posted on the lead up to and of race day. Recently back home I had been to a few local races with my nephew racing in them and keen to ride more. Today was his local trail, 'Beeries', I took a few images in the spirit of giving local racing some quality coverage.
A riders day begins here, queuing for the shuttle runs up the hill.
The track for todays race is in the Glasshouse Mountains, it's officially know as Hennessy Hill.
It's a great track for spectators, being beside a public road it is very accessible. There were a few notable lads bringing 'a quality heckle' to the trackside. Here is a few.
We haven't had much rain over winter so the trails turned dusty uber fast.
And with the dust comes rouge boulders rolling onto course. Like this specimen.
The dust doesn't stop a mountain biker from having a whole load of fun, plenty of airtime today.
Many of the Elite riders, both men and women, were winning against the camera, it wasn't uncommon for them to escape the camera lens like below.
At the trail head, conversations go something like, "How was your run man?", "Yeah good bro, think I've done eight or nine tail whips this-morning", "sick!"
Here is a few highlights from the day.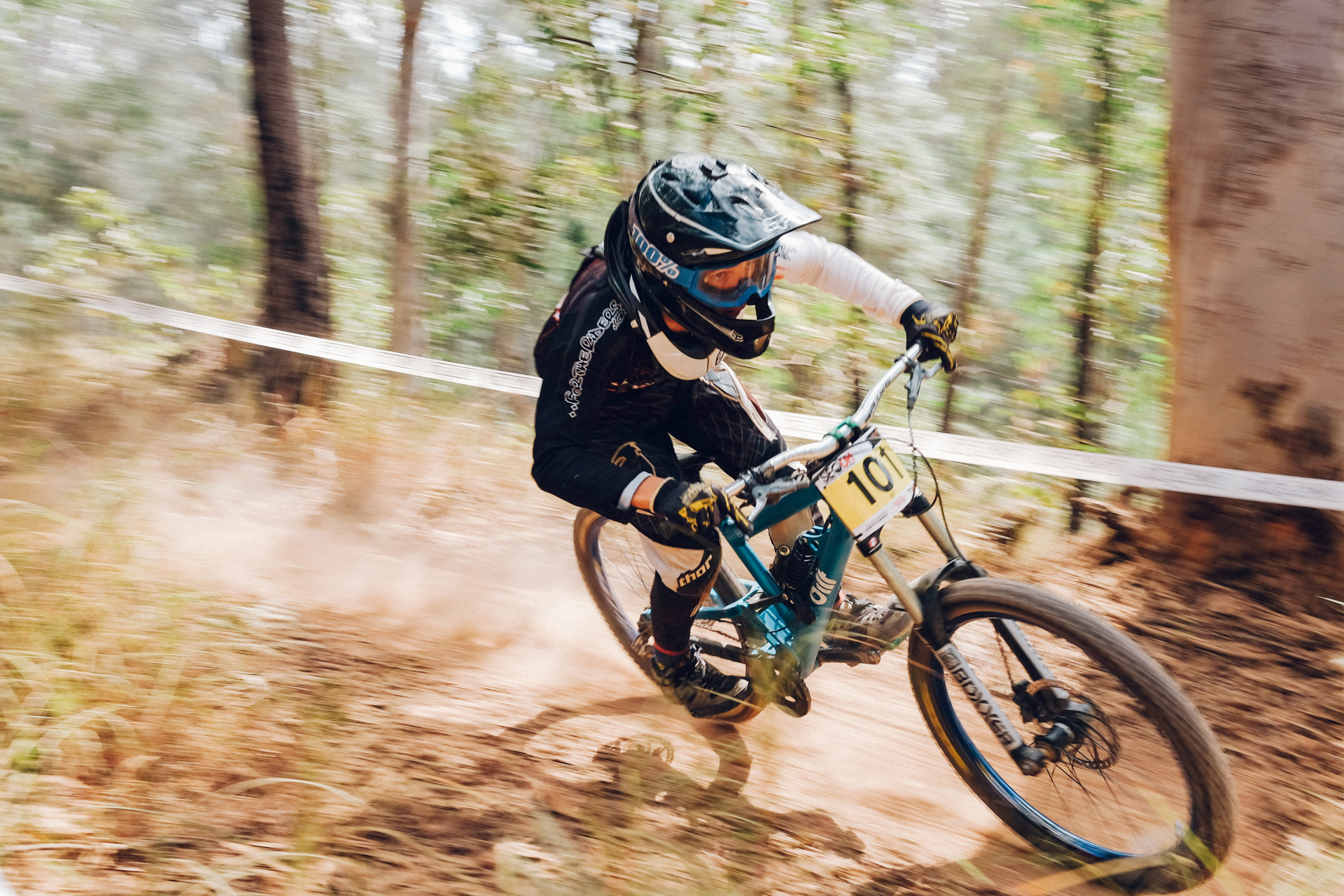 Everybody loves air time, some finding more than others, some styling their air time.
… and more air time here with Lindsay Klein.
Freedom! Someone put this man on a Yeti. Being a Yeti rider I was saddened he wasn't riding one.
The rock garden further down the trail is always a popular place for thrills and spills. Here is an almost spill.
It was really good to see so many riders out there simply enjoying themselves, especially the next generation of young riders.
I'll finish the commentary here for now, sadly I left early before presentations. I'll add event results when available to this post. I'll leave you with some grommet airtime.
---
These images are made available without watermarks for the riders to enjoy and share with friends and family for the growth of the sport. Please do not be a jerk and edit, adjust, photoshop or claim them as your own. They are all professionally enhanced. If you do share them with friends please kindly tag me via instagram @alexballvideos or link back to www.ridewithalex.com If you have any commercial inquiries or hi-res image request for riders for teams/sponsorships please send me a message via the form at http://alexball.info/contact. For more information on the SEQ Downhill Series checkout seqdh.com.au or follow them on Facebook.