Remember when you were a kid and your eyes were bigger than your stomach? Well we got our serve of deja vu as we set out to circle the Coromandel Peninsula linking east and western roads via trails passable by bicycle. It's on this journey of miss-adventure we find cycling companions in two Italian girls.
---
COROMANDEL – PORT JACKSON
Distance: 56.9km / Time Moving: 4:18hrs / Elevation: 1,607m ~ Strava Ride Data
Home for us in Coromandel was a simple caravan park, there was another option out-of-town which we began riding to, but bailed on after being confronted with a strong headwind. We once again found ourselves at the local drinking hole, meeting two Swiss lads taking a van around New Zealand. When morning broke it was apparent we talked (drank) the night away and slowly packed our things in the morning, once again more ordered than the last day. It was all about what you needed next and throughout the day, 'quick access' items were key! We got a good look at the town the next day, mostly touristy with a few little homes like this one around the place.
After coffee's in town we decided on circling the peninsula in two days and set off knowing we had good weather ahead of us, hoping to make Port Jackson by nightfall. The ride out of Coromandel began with an uphill climb as we made our way through some stunning rolling hills in the sun.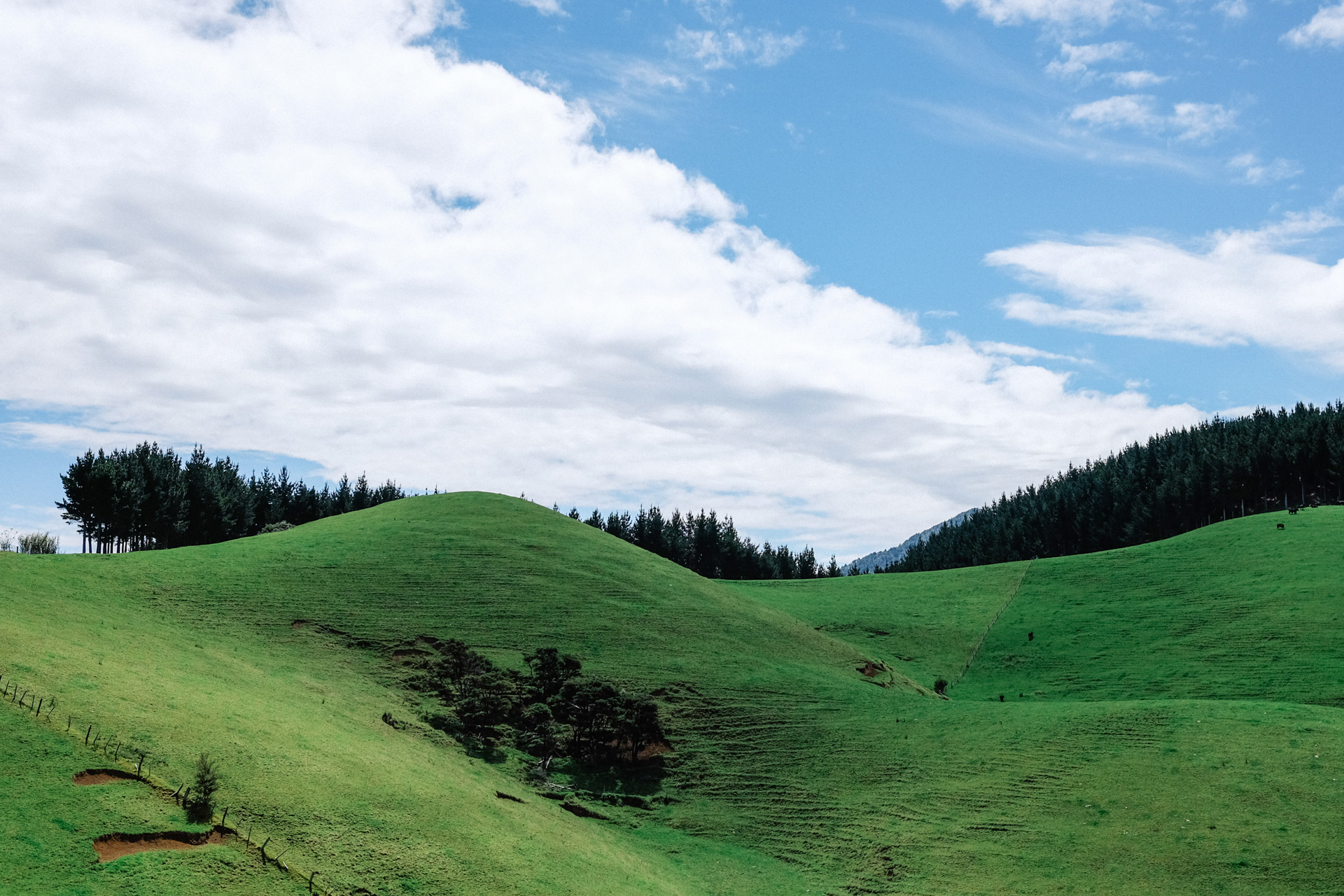 As we came out of the hills we followed the coastline as we headed into the tiny town of Colville. And what a coastline!
The Colville General Store had pretty much everything you might need, we got a few things here and pressed on into the late afternoon sun.
Straight out of Colville we moved onto unsealed roads and you couldn't wipe the smiles off our faces. We had ideal setups for gravel roads and really enjoyed the change onto gravel. And what spectacular roads they were, decorated with "Lord of the Rings" trees, it was like a fairytale.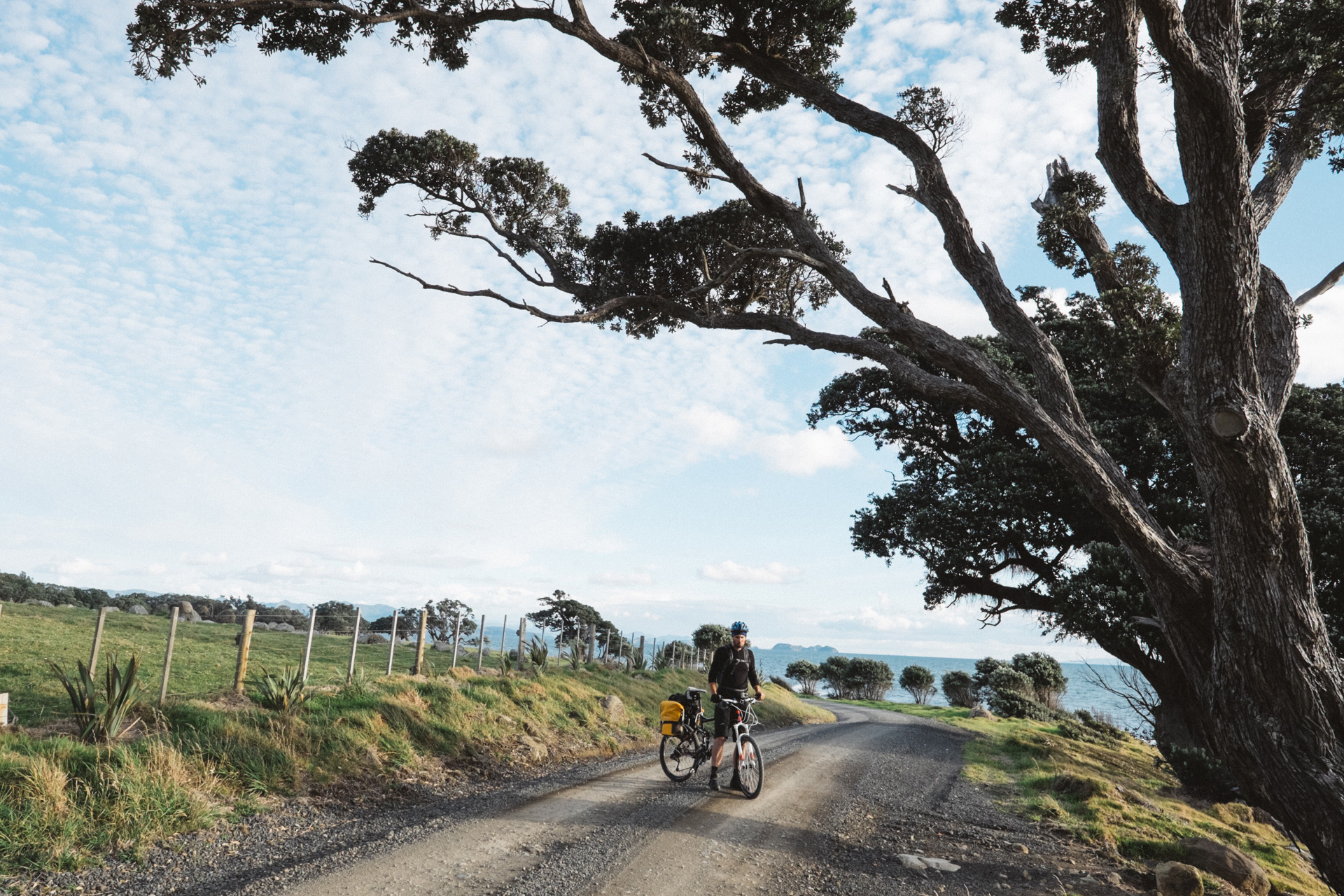 On and on we rode with the sun getting lower and lower as we followed the coastline.
As we neared closer to Port Jackson it was inevitable the sun would bid us goodnight before we would make camp. No complaints here, when the sky is painted like this!
There was one last climb before the run in to Port Jackson and we hit the summit as twilight faded.
Switching on lights to take us into camp for the night we had an exhilarating downhill run in darkness to find tonight's home by the ocean. It's a windy night and we seek refuge in a timber shelter by the ocean to prepare dinner. Dave decides it's about time we drank the red wine he has been carrying all over the countryside,  "I don't want that extra weight tomorrow!" I'm easily convinced, the windchill is sharp tonight!
---
PORT JACKSON – COLVILLE
Distance: 49km / Time Moving: 5:41hrs / Elevation: 2,497m ~ Strava Ride Data
When we arrived at camp last night we had noticed two bicycles from other cyclists. The previous day we came across our Swiss friends in the van and they mentioned two Italian girls were further up ahead. We hoped to 'say ciao' in the morning but alas they had left camp early. The campsite was right on the water with the landscape just as stunning as yesterdays ride.
The views as we rode out of Port Jackson just kept getting better and better and on our way out here are the two Italian girls, flying downhill past us headed back to camp.
Again, the coastline is simply stunning with little islands scattered off ahead of us along the way.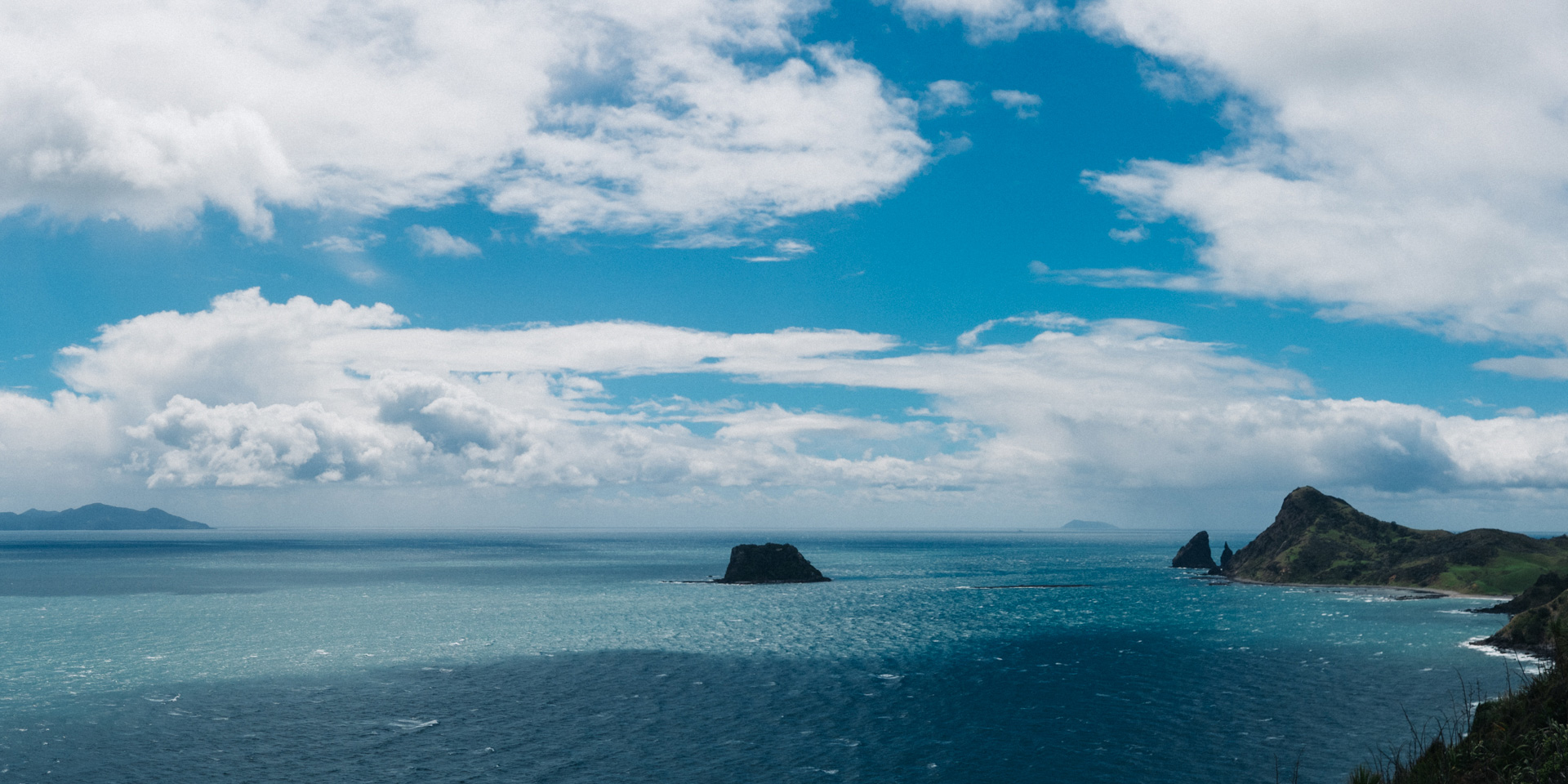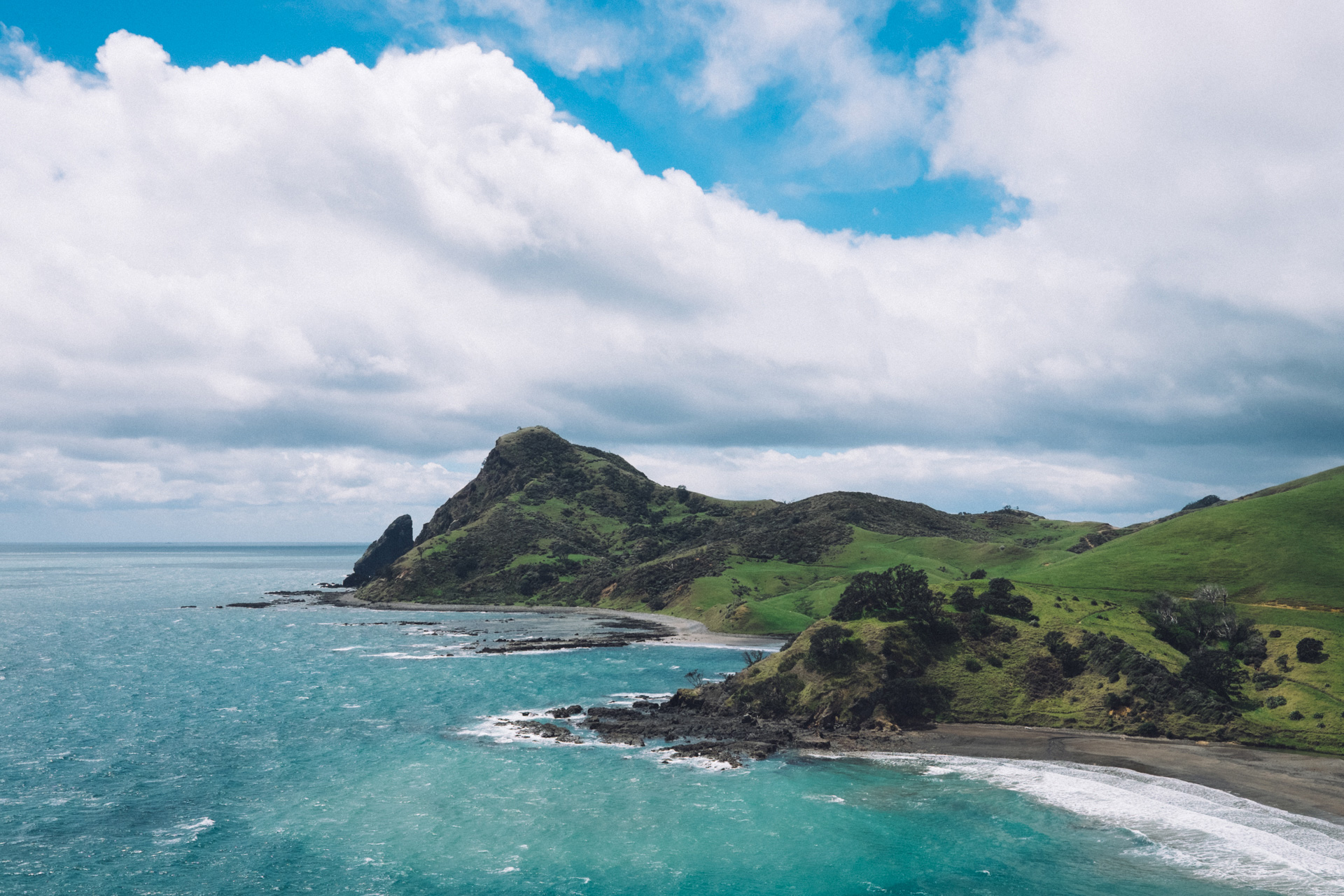 Eventually we came to the end of the road at Fletcher Bay, the girls must have road out here for brunch. We haven't met any other cyclists touring yet, we hope to catch them in a few days, for now, this is where we leave the roads and follow trails around a significant way to Stoney Bay. We knew of a walking trail and a bicycle trail used for an annual event here, it had a significant climb up to at least 500m of elevation.
We work our way up the sheep scattered slope with a heavy crosswind getting increasingly abrupt. So much so we take a break to seek refuge as we are now pushing our bikes up a relentless steep grassy slope. Nearly falling over many times and with weather looking like it might change for the worse we check our altitude, 350m, a bit more to go. We decide to double back down the steep slope as we hadn't made the summit due to unexpected undulations up the ridgeline and heavy wind. So we head back down the slope and take the walking trail which winds around the coastline at a lower altitude with the risk of having step-over obstacles to pass. It's really nice to finally get out of the wind and make it safely down the grass. We spot a boat out in the stunning bay ahead of us and dream of spending the day, several days, exploring and swimming around the headland. It really is a special place.
We are running well behind time with the doubling back and I find myself in trouble the first time of the trip. Riding ahead of Dave I paused as I hadn't heard him behind me for a while and in a moment, lost my balance and fell over a ledge with the bicycle into scrub a meter or two below the narrow trail. It feels like an eternity as I wait, unable to move with the bicycle on top of me, afraid that if I do I would fall further down the slope, which was a definite possibility. Help soon comes as Dave drags the bike off me and I scramble back up to the trail without physical injury. I think at this stage I was out of water, at least running low. I had emptied one of my big water bottles trying to 'save weight' early in the morning. We continue on the trail to Stony Bay and it is David's turn to fall off, luckily on a soft grassy hill! We laugh, we need water and food. We take a break beside the ocean and then move on to Port Charles hopeful for a resupply point. We find that there is nothing out this far. We ask some fisherman and find the last place is way back at Colville, The General Store! We begrudgingly continue on and on, it seems for an eternity of hills are in our way before we reach Colville.
I find myself sharing the emergency stash of energy gels with Dave to get us over the last two hills. The light is fading and once again we will find tonight's home in darkness.
It has been a pretty special day, with all the pain that came with it. We're down to one can of tuna and rice to share for dinner. We tried to make the Colville General Store by 5pm but we just don't make it in time. We'll have to get some supplies in the morning. We continue past Colville and try to find a place to camp or stay the night, keeping a keen eye out for any other cyclists. Eventually we do find a place to pitch out tent. There is a small house we can prepare food inside, take a shower and stay out of the wind. While Dave prepares our simple dinner, Georgia, one of the two Italian girls we passed by days earlier walks in. They had already pitched their tent and had dinner before sundown. Without hesitation Giorgia insists we take some of their food, we're super thankful as we don't have much and eat like we were rescued from survivor island. We learn that Giorgia and her friend Chiara (Kee-ara) have only just started a 12 month cycling tour of New Zealand a week ago. What is hilariously funny is they have been living and working in Australia less than 30min from us both back home in Brisbane. Crazy!
---
COLVILLE – COROMANDEL
Distance: 28.6km / Time Moving: 2:04hrs / Elevation: 812m ~ Strava Ride Data
The night's rest is fantastic. We decided to head back to the store a few kilometers. We had enough supplies to have an easy day back to Coromandel. But we spotted something in the store we wanted to pickup two days earlier.
We catch up the girls back in Coromandel for Coffee and carve chunks of this massive block of chocolate together with a knife, a small thank you for the supplies they shared the previous night. We decide to stay in Coromandel the night, camping at the out-of-town site beside the ocean we bailed on riding to a few days earlier. It's really nice to have company other than our own and we share some beers and stories of our travels so far as we watch the sun set over the water. It has been a really demanding but really great few days exploring the Coastline of Coromandel Peninsula.
Film From The road
---
Next up. We travel with "Team Italia" to Hahei and explore the Cathedral Coast together as we continue our journey towards Rotorua and the Lake Taupo region. Pictured is Chiara on the left and Giorgia on the right, taken along the Cathedral Coast Walking Trail. Click through to read all about it here.