Rotorua, the land of the long white sulphur (stinky) cloud. And excellent mountain biking. Maybe I'm a little harsh on it but this region really is a gem once you get on the ground in the area. I'd happily come back here, probably many times, in the future.
---
The Redwoods
Distance: 36.4km / Time Moving: 3:17hrs / Elevation: 937m ~ Strava Ride Data
We head off with much excitement a short ride out of Rotorua to Wakarewarewa Forest. Boy does it not disappoint, the forest has over 130km of mountain bike trails all with a killer backdrop… Stunning redwood trees cover much of the mountain in the park.
Previous day at the tourist information centre we picked up these neat forest trail maps which were printed onto a really big microfibre glasses wipe! Great idea. We pulled this out a few times to make sure we were on track. But there are large signboards marking trails and your location at several trail crossways on the mountain. I was a little bummed to be riding these trails on a rigid bike, majority of the trails are very well kept and hold a smooth flowy line. With the exception of a few brake bump extravaganzas, at least that was my experience 🙂 Out favourite for the day was the newly opened Eagle Vs Shark.
Film From The Forest
---
LAKE TAUPO
With time running thin and the flight home closing in fast it was clear we would not get as far as Taupo. So I took a bus trip for the day. Taupo is great, I locked in a sailboat ride on the lake later in the day after arriving and then ventured off on foot.
On foot I made my way along the stunning river that flows out of the lake.
After following the stream for a while it was time to head back to town and get onboard. There are kayaking tours of the river, which I can imagine would be fantastic!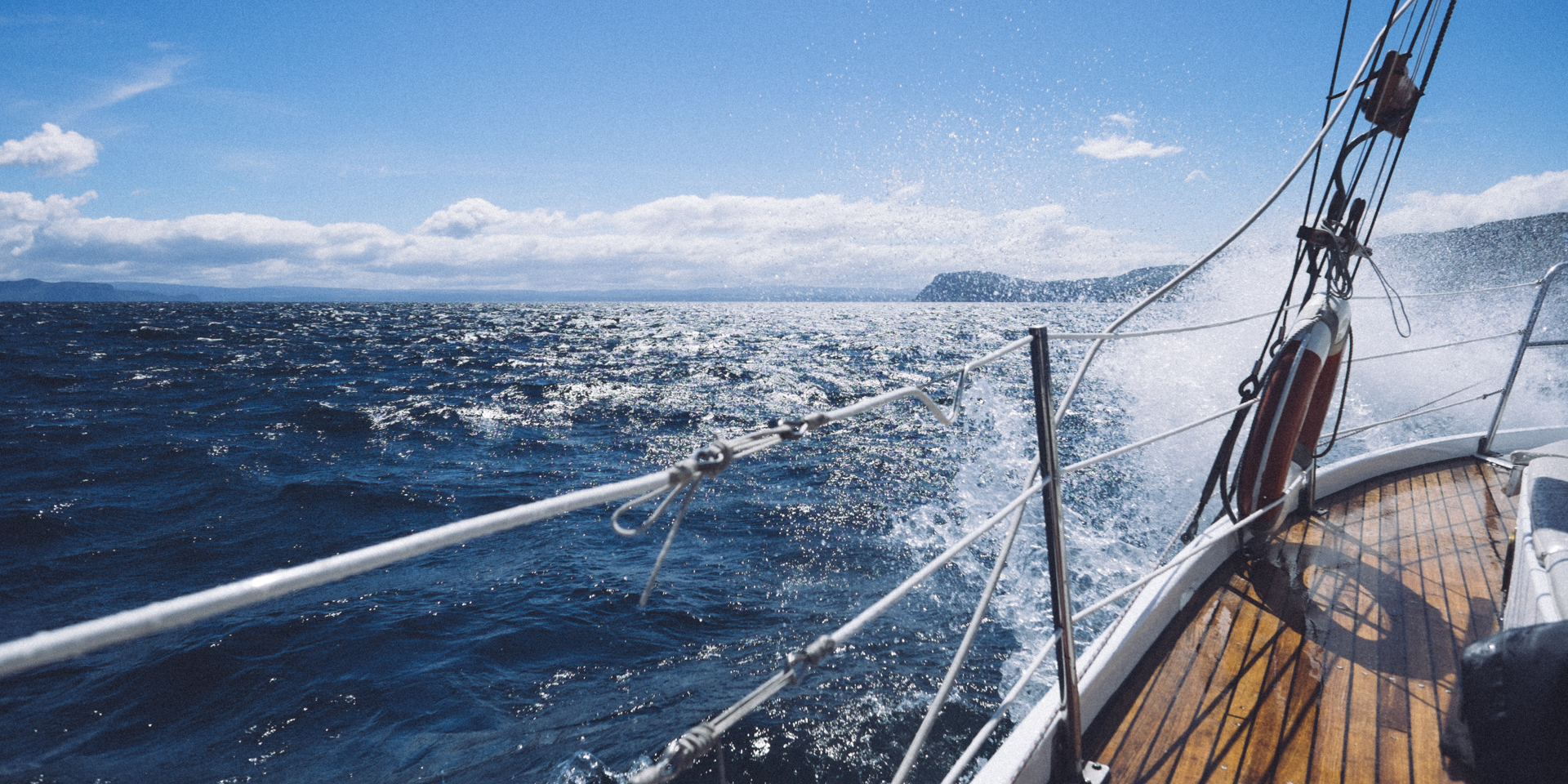 Out on the lake and it is simply massive. It felt more like a trip out on the ocean, with a bit of chop on the water from the wind picking up a little. This of course is freshwater not salt. We kept to the coast helping with a few adjustments to the sails and made our way to these beautiful Mauri rock carvings.
On calmer days this is a good spot to pull up anchor and go for a dip, we continued on explored a little more of the coastline before turning back and making our way out into the vast lake to get the wind back home.
I really enjoyed the slower paced day, no riding, plenty of walking and enjoying the outdoors.
---
ROTORUA
The first thing you notice about Rotorua… is well, nothing really. Just driving through the town on the bus it wasn't wow'ing me. There are not big epic mountains on the horizon, it seems a little pedestrian for New Zealand.
There is a big lake.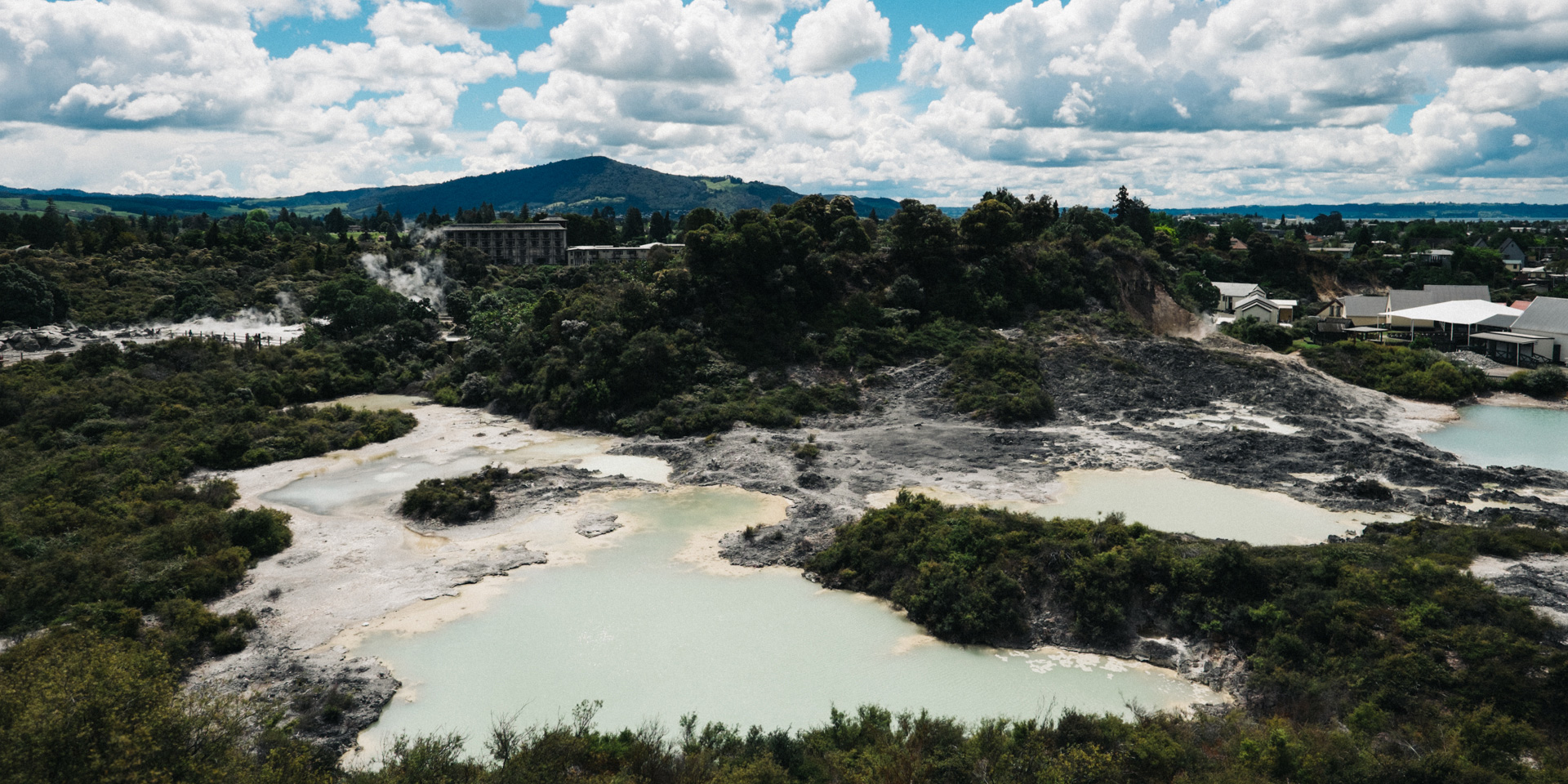 And there is the geothermal pools and significant history of the area. Them pools are what makes the town smell like rotten eggs 24/7, you do become accustom to the rank smell after a few days. Doesn't sound too inspiring now yet does it. One thing it does have a lot of is bike shops and trails to ride on.
It also has a great places to eat, drink and be merry. Zippy's Cafe is a must for any cyclist, it's the local rider hangout. You can't miss their front door, it's 100% stickers of all manner of cycling brands. And yes, they do some of the best coffee in town.
One place Dave and I frequented on a few nights, was Craft. Local beer and delicious wood fired pizza filled our bellies most nights. With only two days left in NZ, the Italian girls we rode with earlier in the trip arrived into town. The budget kinda went out the window, it was just too good not to enjoy as much as we could handle with our Italian friends.
Great live music was also happening, Dave found himself 'guesting' on the mic for one song 🙂 really great way to end to end the trip. There is even more trails to explore around Lake Taupo, which we'll save for another adventure. The next day we headed on the bus back to Auckland with our bicycles packed away ready for transit. It feels far too short. I do wish I had more time here to continue the adventure.
It is however time to head home and reflect on the journey and what is next for me. Bikepacking Europe or South America…
---
For now it's back home to Brisbane. Make a few tweaks to the bike setup and plan the next adventure for 2015. We'll really miss riding with our friends. They have such an epic journey ahead of them, 12 months exploring New Zealand. Fantastic!